A few images from Derby County Show today
Charlie, who stole the show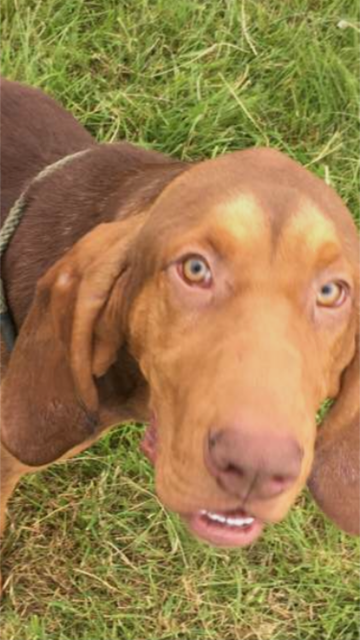 Deb Kane our 1st Whipper-in on Murphy, immaculately turned out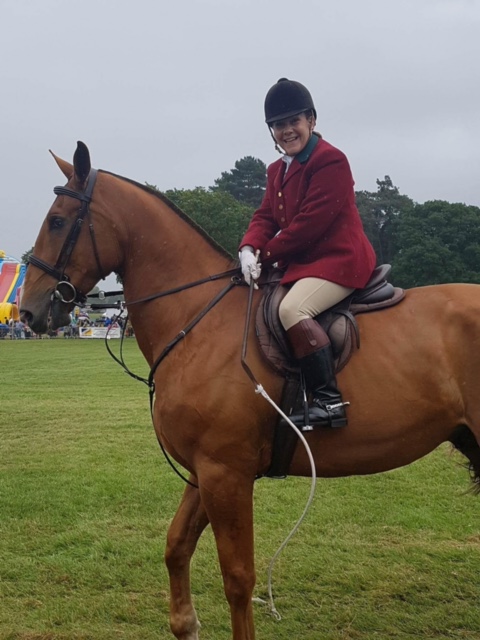 Chris Kane, Master-Huntsman, adored by hounds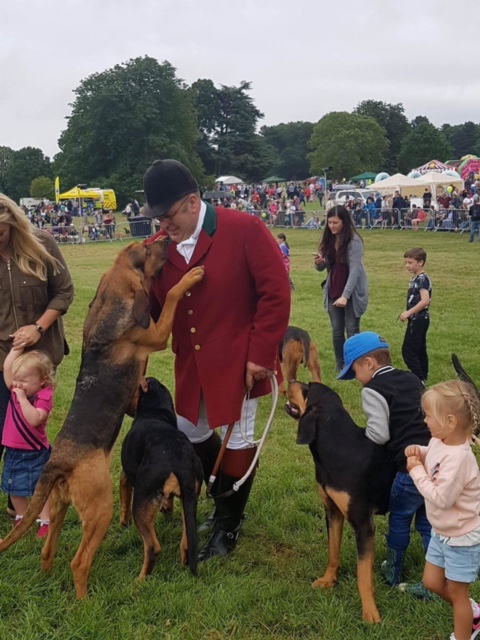 Charlie tickled pink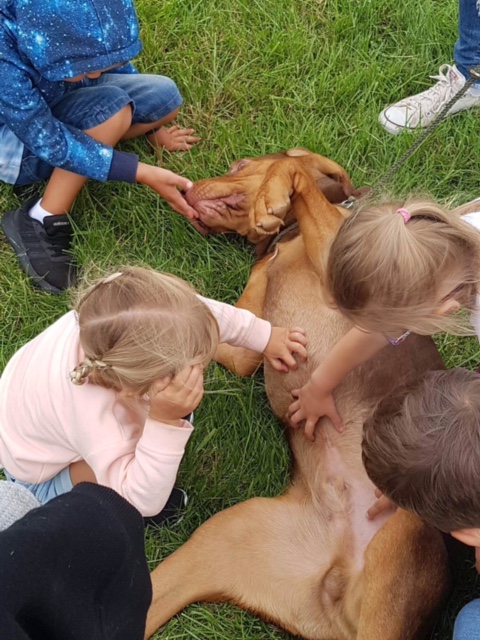 Four Shires' Hounds at the Derby County Show, where they were popular with onlookers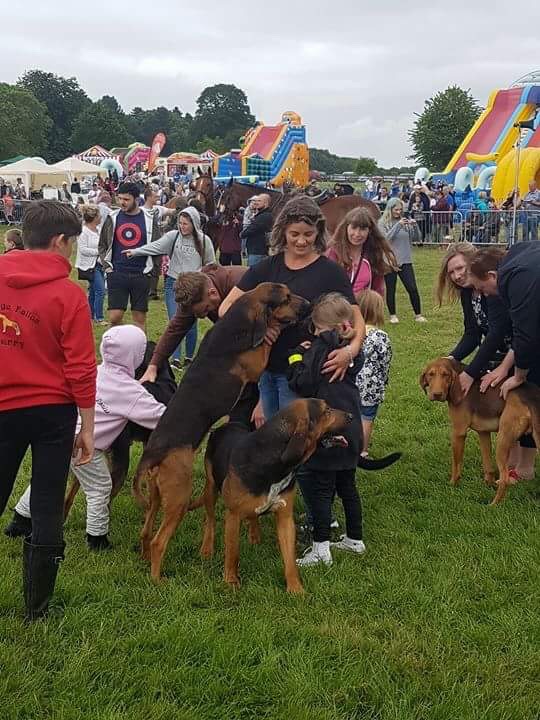 Important Information:
9.00am
Karen Hill
Kirsty Boam
Becky Reece
Jane Clarke
Tony Harwood
Julia Harwood
Louise Saxon
Sophie Fairfax-Bond
Megan Norman
Chloe Metcalfe
9.30am
Georgii Mellor
Kelly Lees
Debbie Grogan
Sarah Hynes
Jade Shetliffe
Amy Down
Graham Norfolk
Julie Norfolk
Cheryl Barton
Hannah Marie Lake
Liza Mottershaw
Sally-Anne Andrew
Suzie Oldridge
10.00am
Karen Smyth
Lucy Beardmore
Emily Bond
Nicola Melbourne
Kathryn Tickner
Libby Nobbs
Chris Hunt
R. Buckingham
R. Buckingham
Lesley Cantrill
10.30am
Andrea Scarborough
Gail Bushell
Lauren Crossley
Freya Crossley
Claire Birchenough
Chloe Bullivant
Holly Russell
Braidie Woodruff
Rosalind O'Driscoll
Karen Ward
Rachel Moore
lucy Moore
Livie Hoult
Amy Locker
11.00am
Joanne Neville (Griffiths)
Caroline Wheelhouse
Tasha Park
Nicola Atkinson
Lyn Lound
Felicity Brown
June Williamson
Mark Goodridge
Bella Goodridge
Pien Goodridge
Emily Harper
Gemma Rigley
Jane Eyre
11.30am
Heather Scholefield
Tracy Warren
Clair Latham
Holly Davies
Heather Speed
Alex Harrison
Debbie Harrison
Evie O'Dwyer
Charlotte Cooper
Alison Cooper
Joanna Thorpe
Lynn Palfreyman
12.00 noon
Adele Cooke
Liz Barbour
Tamara Wallbridge
Alison Jones
Jackie Sutcliffe
Amy Mason
Nigel Costello
Tracy Costello
Miriam Black
Jack Jones
Sylvia Nutall
12.30pm
Madeleine Helliwell
Judith Thornton
Lee Rogerson
Drew Cheslett
Claire Hope
Lydia Pearson
Amanda Hughes
Louise Barton
Melanie Bradbourne
1.00pm
Lauren Havenhand
Lisa Robinson
Carole Jackson
Cindy Tromans
Georgia Stansfield
Naomi Volp
Jonathan Warr
Clare Warr
Kristianne Edmondson
Val Murphy
Kath Busfield
Caroline Tillson
A date for the diary - our next hunt ball will be on Friday, February 16th 2018
Opportunity to ride round on a mixture of quiet country lanes, bridle paths & dales in the heart of the Manifold Valley, including Beresford Dale, the Manifold Way, Back of Ecton, Narrowdale, Alstonefield & Milldale.
The ride will last approximately 3.5 to 4 hours, starting from the village of Wetton, in Derbyshire. There should be opportunities to have a canter for those who wish.
Food & refreshments will be available afterwards.
Ride will commence at 11am. Parking at the bottom of Carr Farm, Carr Lane, Wetton, near Ashbourne, Derbyshire, DE6 2AF. Everyone welcome £15 per rider.
Organised by the Goodridge family.
Meet at The Little Mill Inn Rowarth SK22 1EB, 12 noon. This is an informal, casual ride open to all levels and abilities. The ride will start in the Peak District town of New Mills and take you over the breath taking views of Kinder Scout including the Sett Valley Trail and the Pennine Bridleway . The ride will be approx 3hrs with refreshments and of course great company, cap is £15 per rider and dress code is casual. Hope to see you all there.
Our lovely hounds will be parading at shows throughout the closed season. Please come along and show your support.
Saturday 29th April Barlborough Country fair: "We would like to say a massive THANK YOU for brining your horsess and hounds to Barlborough Hall; we have had hundreds of comments to say they loved meeting the hounds."
Wednesday 31st May Stafford County Show – Hounds were perfect and a big hit with the onlookers. We received a letter form the Committe telling us of the excellent feedback.
Saturday 10th June Clifton Campville
Tuesday 20th June, 11am Royal Cheshire Show
Sunday 25th June Derby County Show
Saturday 15th July Alrewas Show
Thursday 3rd August Bakewell Show
Sunday 6th August Derbyshire Shire Assoc
Wednesday 9th August Ashover Show
Saturday 19th August Ashbourne Show
Saturday 2nd Sept Chatsworth Country Fair
FRIDAY 18TH FEB HUNT BALL at HASSOP HALL
Regrettably we are no longer able to accept cheque payments for any meet. Please ensure you bring cash to pay. Many thanks.
Our lovely bloodhounds at Crufts can be seen at 3:15:00 on this Youtube video.
We were very proud of Bailey, Rosie and Evonne today at Crufts!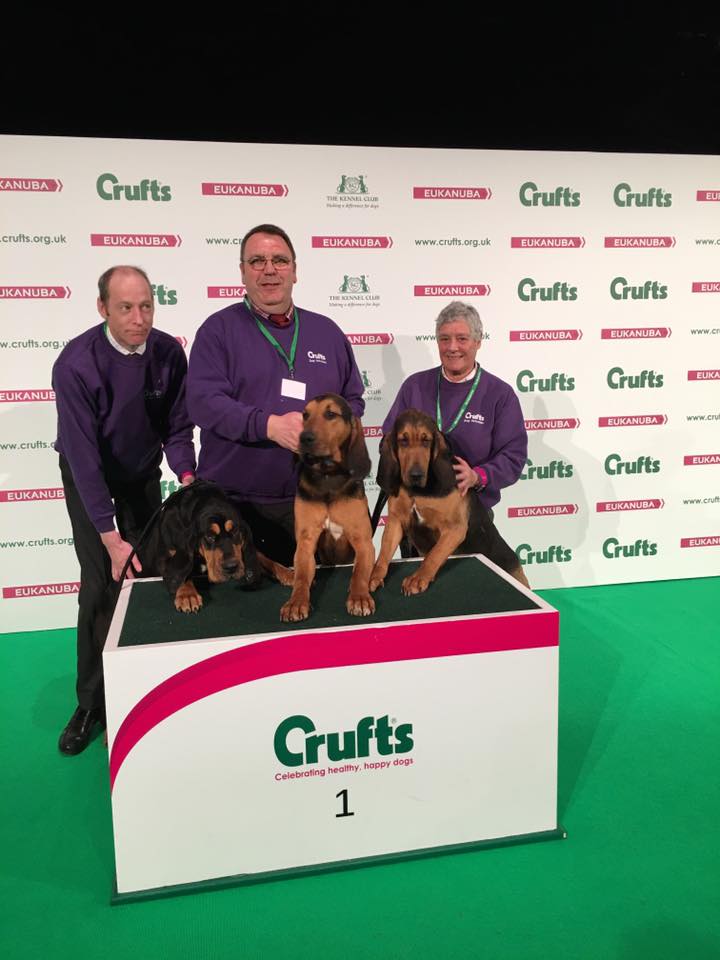 There is a lovely article about the Four Shires in Reflections magazine this month. You can see it by following this link. The article starts on page 46.
Tracy Muir has taken some wonderful photos of meets this season. You can see more at her website, www.tracymuirphotography.co.uk.